So you want to make a beat in FL Studio? Below is a no-nonsense guide to making your first beat, from a beginners perspective, to simplify the whole process for you.
Making a beat in FL Studio: Before you begin
For a beginner, FL Studio can seem very daunting and sometimes overwhelming. We've all been there.
But FL Studio is an unbelievably powerful program, and when used correctly, can be used to make any sound or track you can imagine.
In order to begin making a beat in FL Studio, you must have the following:
1. A full (or even the trial version) of FL Studio
The producer and signature bundles of FL Studio can get quite pricey, and for a beginner this can be very off-putting.
The most basic version of FL Studio, "Fruity Edition" definitely has everything you need to create incredible beats. So you aren't ready to pull the trigger on the more expensive versions, this version will definitely give you what you need in the early days of your music production journey.
Here are the pricing options for Fl Studio:
| FL Studio Edition | Price |
| --- | --- |
| Fruity Edition: | $99 |
| Producer Edition: | $199 |
| Signature Bundle: | $299 |
| All Plugins Bundle: | $899 |
FL Studio also has a free trial version of the product, where you can use almost all the plugins available, however you can't re-open a file once it's saved.
Click here to download FL Studio's free trial.
2. A very basic understanding of the FL Studio interface
This seems obvious, but don't jump before you can walk. If you try and skip the learning curve and start making beats before you even understand the first thing about FL Studio's interface, you'll probably end up confused and unmotivated.
Make sure you understand the very basic functions of the 5 main windows of FL Studio – the browser, the channel rack, the piano roll, the playlist and the mixer.
3. Some samples/sounds to play around with
To make a beat in FL Studio, you're going to need a selection of drums and other samples to play around with.
You're in the early days of production, so I'm assuming you don't want to be forking out a huge amount of money, if any, for samples right now.
Or check out our guides to the best sample packs for genres such as Lofi, Hip Hop, House, Trap, etc.
So now you should have a copy of FL Studio, a few samples/sounds of your own, and a basic understanding of the program.
Now it's time to get creative, and learn how to make a beat in FL Studio.
How to make a beat in FL Studio (Tutorial)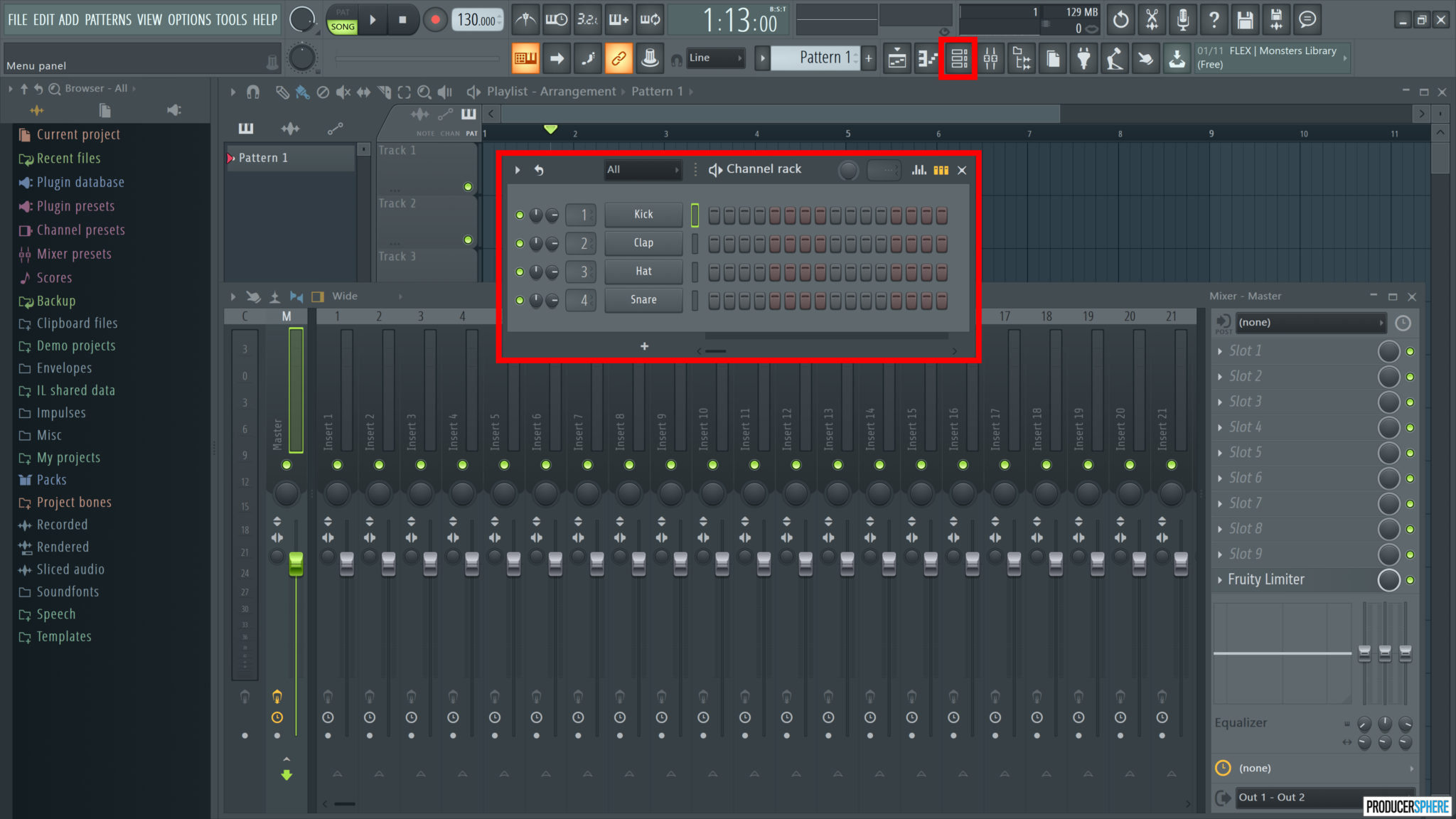 1. Creating a drum pattern in the channel rack
The first step to making a beat in FL Studio is to create a simple drum pattern that will be the backbone of your beat.
The default drum sounds that come with FL Studio are pretty terrible, and you definitely want your own drum sounds to create the beat.
Click here for a great resource for free sample packs, or click here for our guide to the best sample packs for Lofi, Hip Hop, Trap, House + more.
Now you've got your sounds, it's time to import them into FL Studio.
Importing your sample packs into FL Studio
Open FL Studio, go to Options in the top menu, then to File Settings, then under Browse Extra Search Function, click a folder down the left hand side to add a folder to the browser.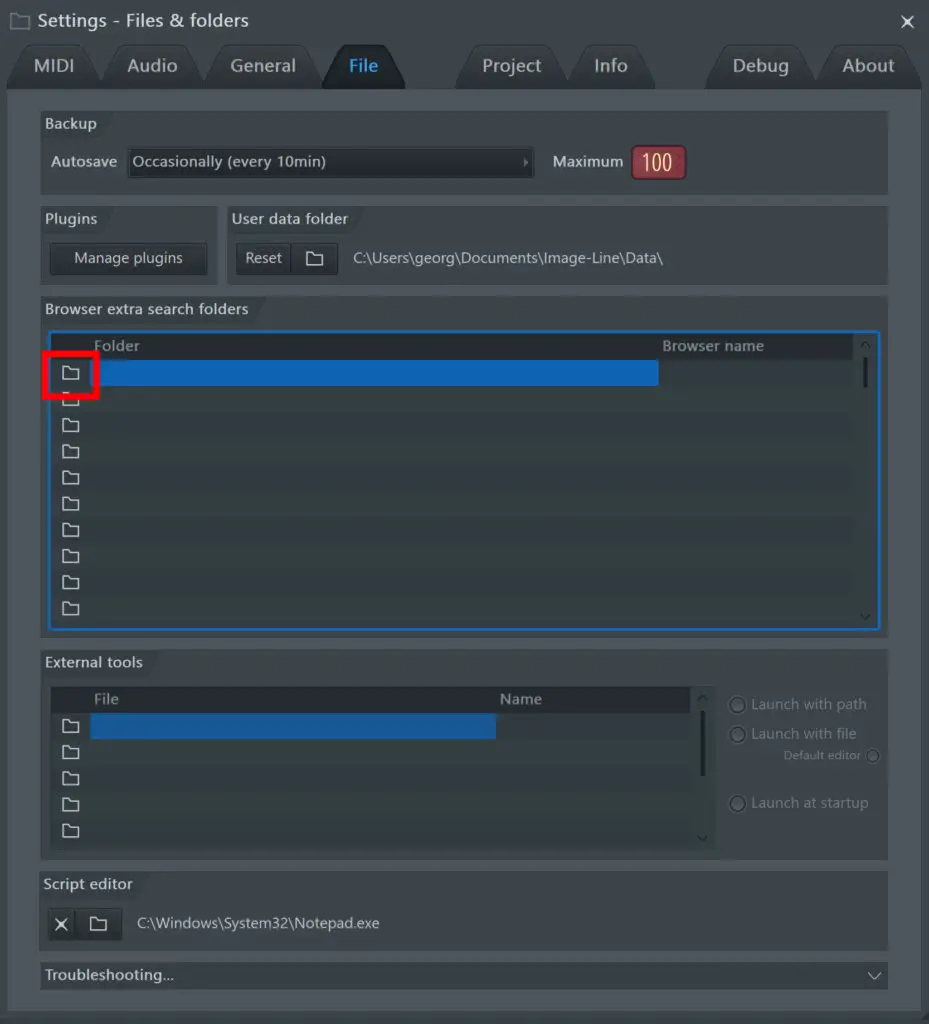 Once you've chosen a folder, click OK, and if you want, you can rename the folder with FL Studio by clicking the name in the Browser Name column on the right. You should now see your chosen folder within the browser panel.
Note: Sometimes the folder won't automatically rename itself within the browser. To fix this simply click re-read (the arrow next to the magnifying glass at the top of the browser, and your folder name should update.
How do I get sounds from the browser into my track?
To import a specific drum sound into the project, simply left click on the desired sound file in the browser, and drag it into the channel rack. The best thing to do is drag and drop the files just below the bottom sound in the channel rack, as dropping it on top of another file within the rack will replace it.
For the next step, add a kick, snare, clap and a hi hat that take your fancy. You can add more percussion elements later, for now you just need to create a basic drum beat.
Creating a drum pattern
This is where the fun really begins. FL Studio's iconic step sequencer is one of the easiest ways to create a drum pattern in any DAW. Hands down.
To add a step or drum "event", left click on any of the step buttons and they will light up, and to delete steps, just right click your highlighted step. You can also drag left or right click to select multiple steps within a channel at once.
In the step sequencer, play around with creating drum patterns with FL Studios incredible step sequencer.
If you're a bit lost, try recreating one of these drum patterns: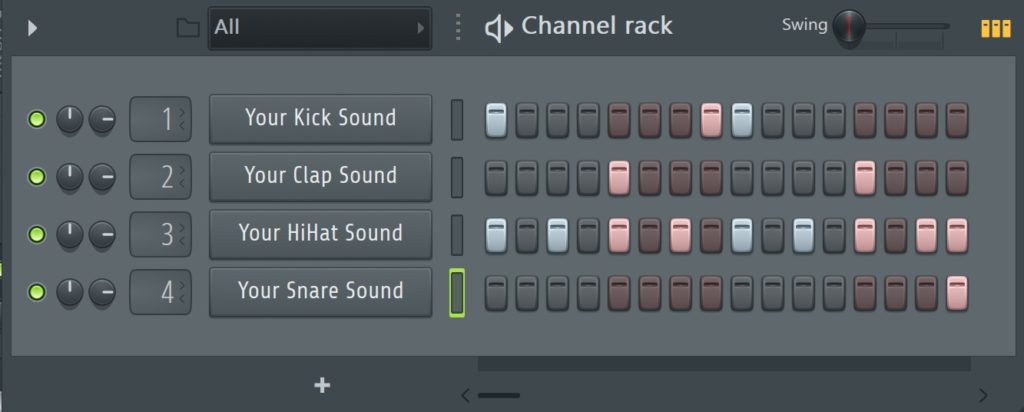 Basic hip hop beat
Recommended tempo: 80-90 bpm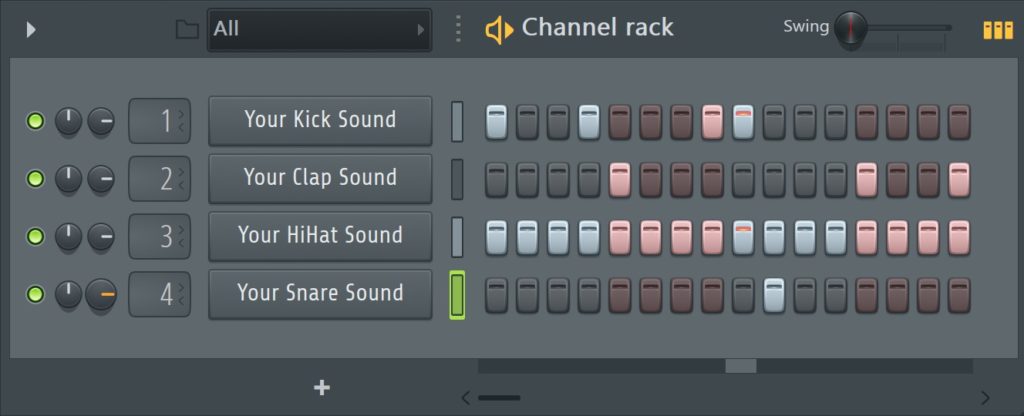 Basic trap beat
Recommended tempo: 70 bpm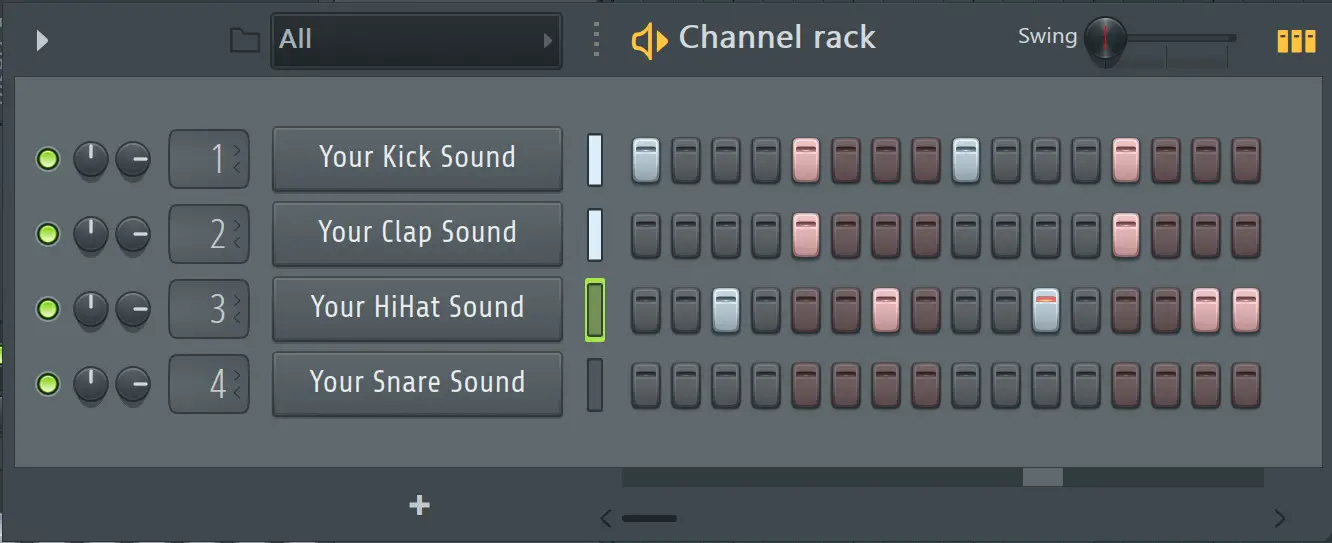 Basic house beat
Recommended tempo: 125-130 bpm
Make sure you rename and colour each drum track to keep your beat organised. To do this, simply right-click a sound, click "Rename, Color, and Icon…".
Adding the drum pattern to your track
To add your pattern to your track, simply left click within the playlist section, and your pattern will appear.
Unlike almost all other DAWs, you can place any pattern anywhere within the playlist, and each pattern is not limited to its own track row.
To keep things organized, right click on the track name, and select "Rename, color and icon…" and name it "Drums". It's always easier to produce full, complex tracks when sounds are kept within their corresponding tracks.
Go ahead and add 4, 8 or 16 bars of the drum pattern to your playlist. Your screen should now look something like this: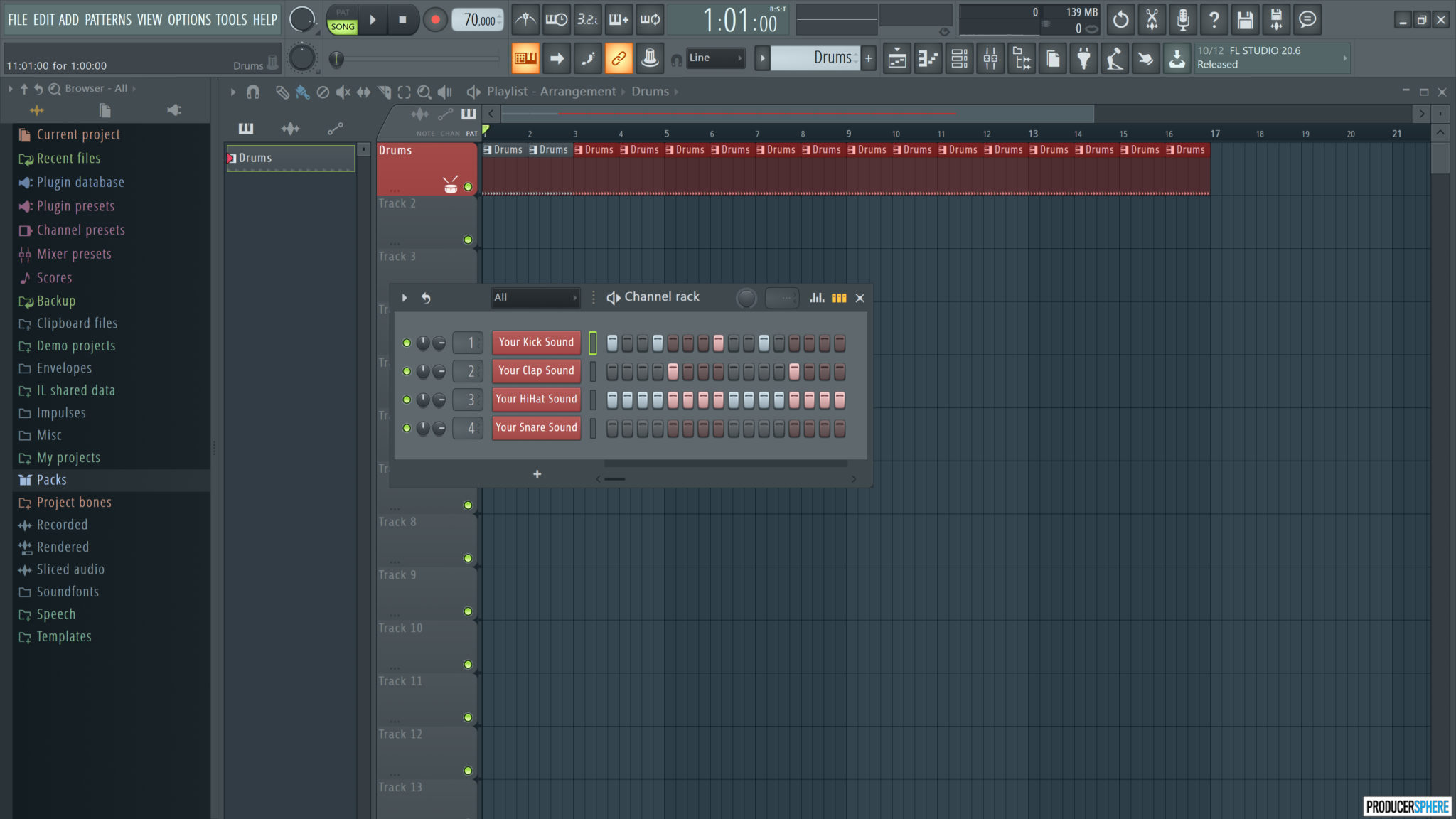 Comment links to your loopazon loops!