When it comes to it, preference is all that matters. Both Adgoriddim and DJ Player Pro are incredibly powerful software and both have specific pro's and con's dependent on your needs. Here we will briefly explain each and leave the deciding what's best part to you. Since we're no experts in this software we can only summarize, we ask for your feedback in which you prefer and why. Please let us know in the comments.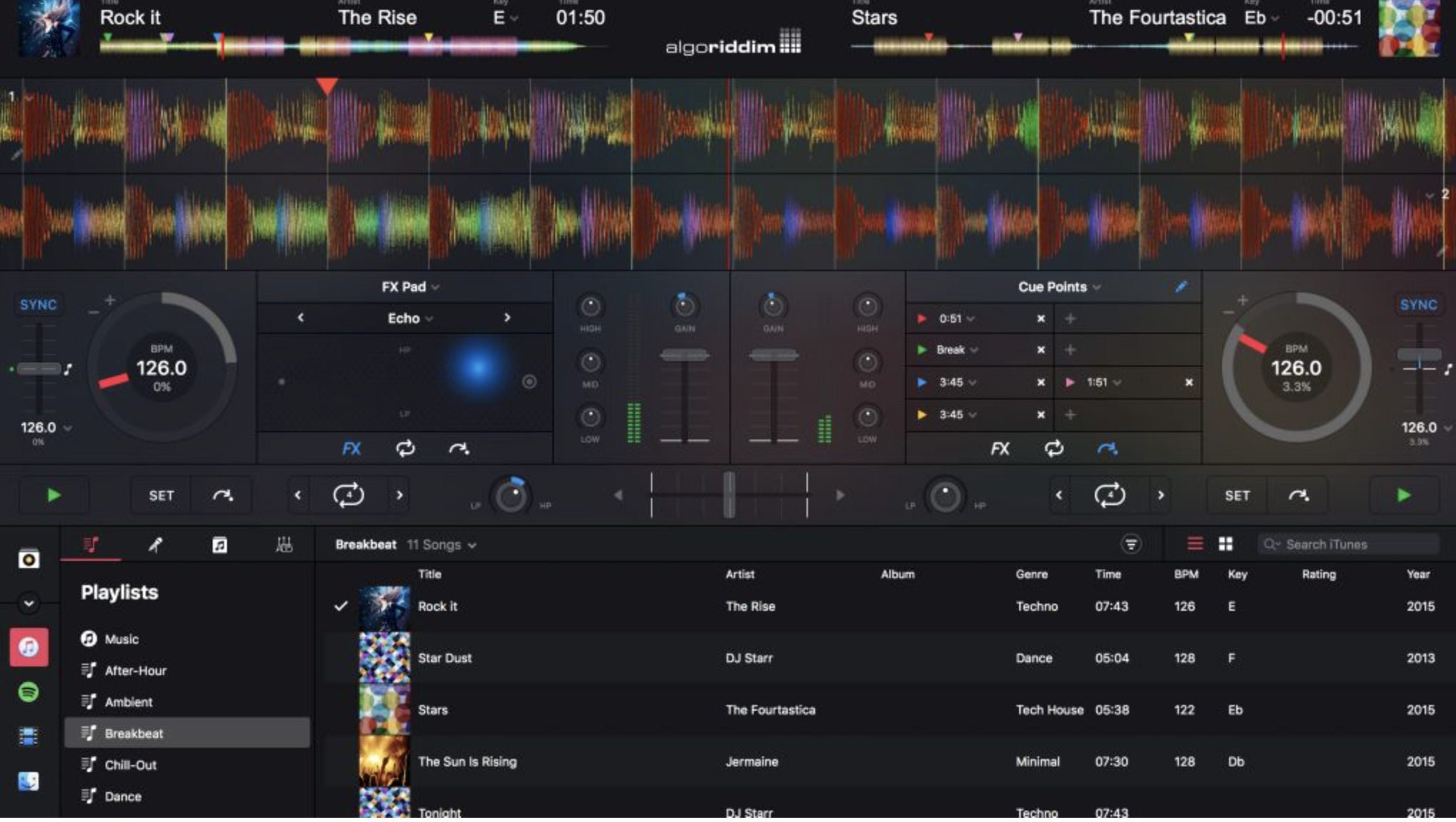 Algoriddim is at the top in regard to brands that take the mobile DJ software seriously, they provide one of the best applications on the Apple and Android frameworks. It holds strong as a desktop plugin, also, and includes features any beginner DJ and expert alike, would appreciate. Included is the ability to load tracks right off Spotify as well as the AutoMix AI feature that comes up with playlist mixes.
The main Algoriddim software supports 4 deck mixing and waveform views. Included is a sampler with effects and an extensive library of audio bits. It provides framework for over 60 MIDI controlls and is even designed with Pioneer's CDJ and XDJ devices in mind.
The Suite full version isn't too expensive, and a more basic version (yet quite capable) is offered for Apple Watch.
V.S.
DJ Player Pro
DJ Player Pro is one of the most popular software for DJ's. It's got a lot of customizable options and parameters. For mobile, at least, it's as good as it gets.
It includes a huge amount of capabilities in a nice fit and efficient user interface. It's basic and easy to learn functions are a huge selling point, but the hardware power is what really makes it special. Amongst the many plugins, one for just about every MIDI controller, you're almost guaranteed to find what you need no matter you your requirement. Did I mention there's an awesome editor for mapping your MIDI controllers? It's as good as they come.
On top of all that a nice amount of effects, loops, sync and pitch capabilities and ton more. It's really as professional you can find for a mobile app. Loopazon is a fan, our hats off to them, and we highly recommend you check it out.
DJ Player has a free trial version with just about all the capability of the free version. The paid version adds a little extra spazas but you definitly don't need it.