FL Studio is certainly not the industry standard DAW for music producers. Steinberg's Cubase and Apple's Logic Pro X remain the most favorite DAWs for top music producers around the world. Despite this, FL Studio (formerly Fruity Loops) has remained so significant in the last two decades, creating a niche of its own, without attempting to compete with or be an alternative to Cubase or Logic Pro.
ImageLine, the makers of the application deserve all credit for this consistent strategy. Every post-1990s music producer would have heard of or even toyed with FL Studio at some point in his fledgling stage. Some of them have continued using it throughout their careers with popular patrons being Martin Garrix, Deadmau5, Soulja Boy and Madeon.
Also read: Extract Drums using FL Studio
Why FL Studio?
The natural question that would arise is why ImageLine's flagship product is so relevant even after 23 years in a market dominated by Cubase and Logic Pro. Initially developed as a MIDI drum machine by Didier Dambrin (who was hired by ImageLine to develop video games), the program underwent several revisions in quick succession owing to its overwhelming reception on online debut. Six years into the market, ImageLine was smart enough to realize that simplicity and minimalism were the main factors that kept most of its users hooked to FruityLoops.
The application proved to be a haven for aspiring Djs and other electronic music producers who were intimidated by the complexity in advanced DAWs like Cubase. Both Cubase and Logic Pro were at one point completely incomprehensible for a section of beginners working in selected genres. The FL Studio interface was a godsend for most of them. In a matter of hours, they could get acquainted with the interface. In a matter of weeks they could start producing their own music with the software.
Today, FL Studio is a full-fledged DAW that can be used to create loops, play virtual instruments, compose, arrange, program, mix and master songs and instrumentals. One of FL Studio's unique selling points that ImageLine has maintained over the years is its pattern-based interface. Contrary to most of the other mainstream DAWs, FL Studio allows its users to perform different functions in different sections after which they can assemble all of them into the playlist. These individual sections are known as patterns and they facilitate a faster and much more organized workflow. The default empty session in FL Studio screen would contain a blank background space known as the playlist and a small window called the channel rack with a step sequencer on its right and default samples on the left.
You can load additional instruments to the channel rack from the browser panel on the extreme left of the FL Studio interface. The small square blocks you see on the right are what you call steps. You can start working with the step sequencer even without a MIDI keyboard by completely operating with mouse-clicks, with a left click used for selecting and a right click used to deselecting a step.
To create a new pattern, you just need to click on the plus symbol and name it. You will see the new pattern being added near the playlist. The blue graph symbol on the top right corner of the channel rack allows you to customize the note of each step in the sequence.
Other tabs in the window allow you to control the volume, velocity and pitch of each step. You can also manually control the instruments using the piano roll. Right-click on the instrument button on your channel rack and open your piano roll. If you have a basic playing knowledge on the keyboard, you will easily grasp the MIDI information on this section.
The piano roll allows you to easily manipulate the arrangement with much more detail, especially when you are working with virtual instruments. Back on the channel rack, you can click the + symbol on the bottom left to load virtual instruments.
Once you have arranged your pattern in the channel rack, check the numbers on the left hand side of your sequence.
These are allotments for your pattern in the mixer. Once this is done, you can draw pattern to your playlist.
For the next layer, you may create a new pattern and repeat the whole process again. So that pretty much explains how easily and quickly you can get started with FL Studio. You may find yourself addicted to the pattern-based interface in a matter of days.
Updates from ImageLine
On the occasion of its 20th anniversary, ImageLine released the successor to FL Studio 12, named FL Studio 20 with a host of new features. Besides, they released a substantially stable version for Mac, surprisingly something they never had for their first 20 years.
Once you purchase the FL Studio license, ImageLine provides you with free lifetime updates. And yes, the updates are very frequent. A glimpse of the changing version numbers after the decimal point would give you a rough idea about how frequent is ImageLine with its revisions. FL Studio is of course, proprietary software. It has never been open-source since its debut. Despite this, there is large community support for the application worldwide, though not on the development front. Users and fans of the DAW constantly communicate and exchange opinions about the DAW in internet forums. Thanks to the highly user-friendly interface FL Studio has maintained over the years, the cult fan-base is so overwhelming. Thankfully, ImageLine is all ears. They meticulously scan user opinions and dedicate themselves to making quality additions and fixes to their most recent version, which explains the constantly changing values after the decimal point.
Read: A Brief Introduction to DAWs
Available Editions
FL Studio is available in four different editions. You can choose the most appropriate one based on the frequency and level of your usage.
Fruity Edition

This is the most basic offering of FL Studio. Priced at $99. this is a reasonably good version available for beginners. The most important features for professional use including live recording with the Edison plug-in, are absent in this entry-level edition,. You may only use this edition just to get acquainted with the interface. Once you buy this edition, you become eligible for lifetime updates and you can always upgrade to a better edition paying the difference price.
Producer Edition
The producer edition is the most widely used edition of FL Studio. Priced at $199, almost equal to that of Logic Pro X, this does come with a host of features that are sufficient enough to get you started on a real professional level. It comes with the Edison plug-in for live recording. However, after a point you would contemplate moving onto a more comprehensive edition if you want to work with plug-ins like the NewTone.
Signature Edition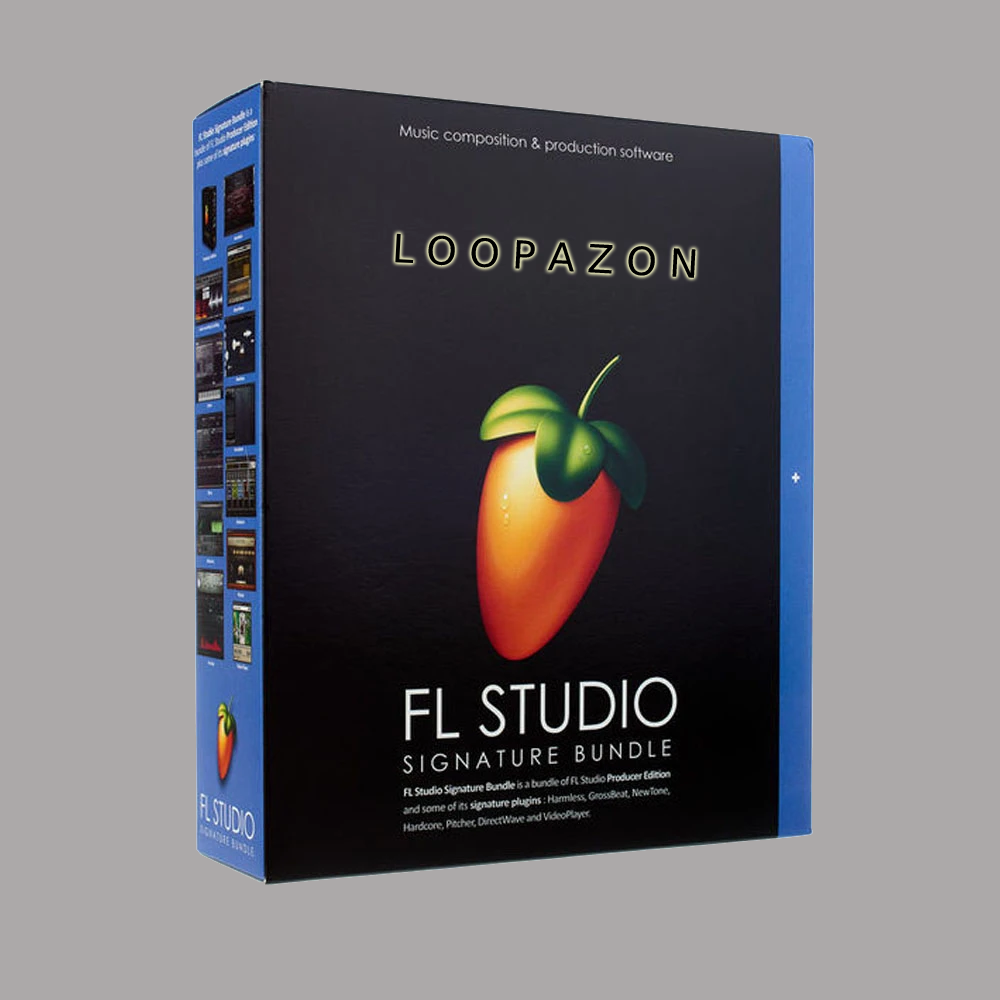 The signature edition priced at $299 , is for full-time professionals. It comes with several 'must-have' features for any professional music producer. NewTone, Image-Line's counterpart of the Melodyne pitch correction plug-in is one of the most important features coming with the Signature Edition. Besides this, the Signature Edition includes plug-ins like the pitcher and gross beat, which are absent in the Producer Edition.
All Plugins Bundle
The name is self-explanatory. This edition that is priced at an exorbitant $899 is the most comprehensive version of FL Studio available with free access to a host of premium plug-ins, unavailable in any other edition.
Every edition of FL Studio comes with free lifetime updates.
Alternatives for Beginners?
By know, you know that the FL Studio is one of the best DAWs out there to start out. But you would surely contemplate trying out its alternatives too. Loopazon's favorite alternatives for the FL Studio are
1) GarageBand
If you have gone through some of Loopazon's other articles about DAWs, you would already be knowing that GarageBand is one of our favorites. There is rarely an article about DAWs without discussing this little gem.
A free offering for Apple users, the GarageBand is a boon for beginners and fledgling music producers. It is essentially a lighter consumer version of Apple's monster, the Logic Pro X. GarageBand is the best thing to start jamming with your friends. You can record music, create original loops and program tracks with hundreds of existing loops that span across genres.
Read: Getting Started with GarageBand
2) Reaper
Reaper is another highly user-friendly DAW developed by Cockos. An excellent DAW to begin with, especially if you are recording with a lot of live instruments.
Cockos only offers one edition of Reaper, which is loaded with all functionalities. You have a free 60-day trial after you may purchase the license. If you are intending a full-fledged commercial use, then the license would cost you $225. However if you are an individual, an educational institution or an NGO, Reaper would cost you only $60. You essentially get the same DAW with both these licences.
Read: Introduction to Sampling