05/31/2021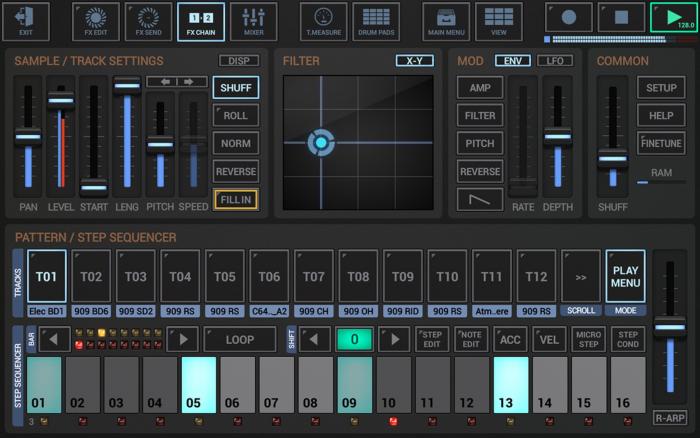 G-Stomper Rhythm, the little brother of G-Stomper Studio, is a versatile Tool for Musicians and Beat Producers, designed to create your beats on the go. It's a feature-packed, Step Sequencer based Drum Machine/Groovebox, a Sampler, a Track Grid Sequencer, 24 Drum Pads, an Effect Rack, a Master Section and a Line Mixer. Never lose a single beat again. Write it down and rock your own jam session wherever you are, and finally export it Track by Track or as Mixdown in Studio Quality up to 32bit 96kHz Stereo. Whatever you are up to, practice your instrument, create beats for later use in the Studio, just jam and have fun, G-Stomper Rhythm has you covered. What are you waiting for, it's free, so let's rock!
G-Stomper Rhythm is a free app without any demo restrictions, supported by ads. You can optionally purchase a G-Stomper Rhythm Premium Key in form of a separate app to remove the ads. G-Stomper Rhythm looks for the G-Stomper Rhythm Premium Key and removes the ads if a valid key exists.
Features
Line Mixer : Mixer with up to 24 Channels (Parametric 3-band Equalizer + Insert Effects per Channel)
Effect Rack : 3 chainable Effect Units
Master Section : 2 Sum Effect Units
Audio Editor: Graphical Sample Editor/Recorder
Ableton Link: Play in sync with any Link-enabled app and/or Ableton Live
Full round-trip MIDI integration (IN/OUT), Android 5+: USB (host), Android
6+: USB (host+peripheral) + Bluetooth (host)
High Quality Audio Engine (32bit float DSP algorithms)
47 Effect Types including Dynamic Processors, Resonant Filters, Distortions, Delays, Reverbs, Vocoders, and more + Side Chain Support, Tempo sync, LFOs, Envelope Followers
Real-Time Sample Modulation
User Sample Support: Uncompressed WAV or AIFF up to 64bit
Tablet optimized, Portrait Mode for 5 inch and bigger screens
Full Motion Sequencing/Automation Support
Import MIDI files as Patterns
Support for additional Content-Packs
WAV File Export, 8..32bit up to 96kHz: S
um or Track by Track Export for later use in Ableton, FL or any Digital Audio Workstation of your choice
Real-Time Audio Recording of your Live Sessions, 8..32bit up to 96kHz
Export Patterns as MIDI for later use in your favorite DAW or MIDI Sequencer
Share your exported Music
Download
We dont host any software files here. The download button will take you to the Planet H website where you can download the software direct.