05/10/2021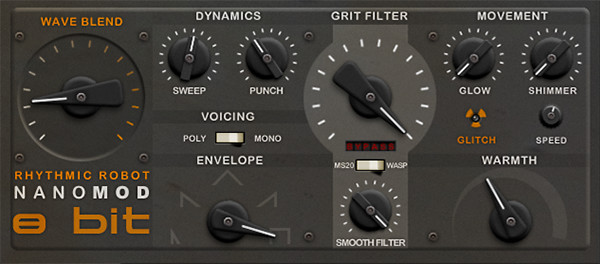 NanoMod 8-Bit brings the power of the NanoMod interface to bear on the shiny, aliased grittiness of vintage 8-bit digital synths. From searing synth leads to crunchy pads, 8-bit has the heft and muscle of those classic 80s polysynths right at its heart.
Wave 1 is a thickly detuned combination of two sawtooths and a PWM pulse, all beating it out together – great for movement and power. This is a very rough, aggressive wave.
Wave 2 is a typical early-digisynth waveform, with Breath and Air components and a lot of high-frequency noise. Dialling this in gives a great "airy pad" sound straight off; and it combines excellently with Wave 1 to add gloss to the raw sawtooth sound.
Download
We dont host any software files here. The download button will take you to the Rhythmic Robot Audiowebsite where you can download the software direct.